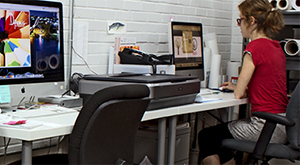 For fine art, presentation, or photographic reproductions please provide us with PDFs, TIFs, or original art.
When submitting digital files, please follow these steps:
Convert your document to CMYK color mode. Our printers are based on the CMYK color gamut. Viewing your work in CMYK mode will give you a more accurate impression of how the colors will appear when printed.
Verify that your file has a resolution of 300 ppi to ensure a high quality print. If there are any embedded images or graphic files within a document, confirm that they have also been saved at a resolution of 300 ppi.
Verify that your file is set up at Print Size. For example, if you would like a 24 x 36" print, check that these are the dimensions of your document.
Flatten your document. This applies if you are using Adobe Photoshop.
If you'd like a border around your print, ensure the border has been set up in your final file.
Export this as a high-resolution PDF file. If possible, avoid using compression.